New Patients
You'll find Scarton Chiropractic & Rehabilitation Clinic a comfortable, casual place to be. Our patients and staff have great connections with each other and enjoy interacting, giving a lighthearted energy to our entire practice. When you walk in, people are doing treatments, therapy and exercises in our loving, caring environment. We want to give you a personal experience with a community feel on each of your visits with us.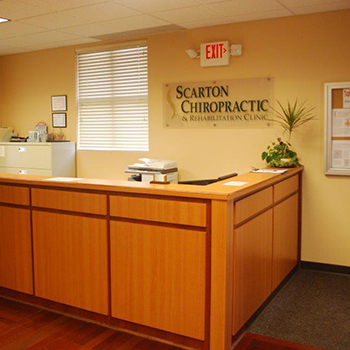 Your First Appointment
The new patient intake forms can be downloaded from our website and brought in completed to save you time. We're ready to greet you with a smile and a handshake when you walk in. Your chiropractor will introduce themselves and bring you back to the consultation room. There, we'll discuss your history, what's brought you in and what you're seeking help with.
Next, we'll complete a thorough examination consisting of:
Palpation of the muscles and joints
Range of motion assessment
Neurological and orthopedic tests
X-rays if needed, on site
Functional movement assessment
The functional movement assessment shows us where breakdowns in the body are before symptoms occur and is particularly useful for athletes. If needed, we'll take X-rays on-site.
Depending on your pain levels, we may be able to adjust you the same day. Otherwise, we'll take the time to review your case and see you again the next day. This visit takes about 45 minutes to an hour.

Your Second Appointment
On the next visit, your chiropractor will have looked over all the findings and results from your previous appointment. We'll explain what's going on in your spine, present all options for your problems and walk you through the phases required to restore your full function. Please reserve 45 minutes to an hour.
Routine Visits
You'll move through different phases of care as your appointments continue. We may use different therapies or give you strengthening exercises to complete and are happy to answer questions along the way. You'll receive your adjustment and be in and out of the office in about 30 minutes.
We're available for you in case of an emergency. Same-day appointments are also available.
Schedule Your Visit Today!
---
Scarton Chiropractic & Rehabilitation Clinic | (724) 229-5266